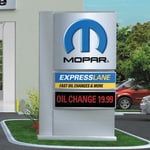 It is always to your advantage to make sure the critical parts on your vehicle are protected if something unexpected happens. This is particularly true with your tires. One bad pothole can really ruin your day and cause a lot of damage. With the road hazard tire and wheel protection plan, you will be covered when that happens.
This is a way of protecting the money you have spent on your vehicle and tires. If you encounter damage due to a pothole or curb, the repair or replacement will be covered. Just take the vehicle to an authorized service center and you will be taken care of.
If you are wondering about deductibles, there are none with this plan. You will not have to worry about paying any more money out of your own pocket for covered damages to your tires or wheels. Contact Robert Green Chrysler, Dodge, Jeep & Ram when you need to schedule a service appointment.