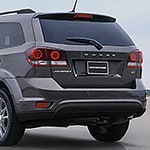 For a seven-passenger SUV that offers comfort, safety and reliable performance without sacrificing on style, you don't have to look any further than Robert Green Chrysler, Dodge, Jeep & Ram. Our showroom is where you can check out the latest versions of the popular Dodge Journey, so feel free to stop in for a closer look at your convenience.
The Journey is fronted by a distinctive grille and visually appealing headlamp assembly. You'll have your pick of 10 different exterior colors from a palette that includes blue, red, orange, olive green and several neutral shades. Sculpted exterior accents and other high-end details also serve to make the Journey truly stand out from the crowd.
In back, the Journey features unique circular taillamps that are aimed at increasing visibility in a wide range of weather conditions. A simple-to-operate hatch provides access to the spacious cargo area and makes for easy loading and unloading of even large, bulky items.