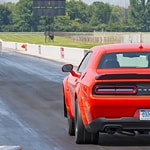 The Dodge Challenger exceeds all of your expectations for a high-speed muscle car. It looks athletic and imposing, goes from zero to 60 in record time and performs exceptionally in a variety of driving situations. Take the following two features our Robert Green Chrysler, Dodge, Jeep & Ram team selected as examples of this vehicle's superior performance.
Adjustable Stability Control
Like most of today's vehicles, the Dodge Challenger has Electronic Stability Control, a feature that automatically maximizes tire traction as needed. The Dodge Challenger goes a step further with a Three-Mode version that permits full on, full off or partial handling control. This adjustability makes it easy to tweak handling for your daily commute through Monticello or for your next spin on a race track with a friend.
Power Steering
To help you corner tightly like a pro, the Dodge Challenger features electronic power steering. Power steering augments your own steering efforts at designated speeds, enhancing and easing the Dodge Challenger's ability to maneuver or turn at your behest.