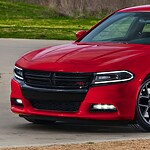 Most Dodge Charger models come with a powerful V-6 and V-8 engine options as standard equipment. There's a 3.6-liter V-6 with 300 horsepower and 260 pounds-feet of torque as the standard engine. R/T and Scat Pack use strong V-8 engines to push performance to new depths. The R/T has a 5.7-liter engine that produces 370 horsepower and 396-hp, while the Scat Pack has a 6.4-liter V-8 engine that produces 485 horsepower and 475 lb-ft of torque.
The Dodge Charger is among the most powerful sedans available in the market today, thanks to these potent engine options. It's also one of the few vehicles on the market with a V8 engine as standard. Eight-speed automatic transmissions come standard on all engine configurations, ensuring responsiveness and maneuverability. All-wheel drive (AWD) and rear-wheel drive (RWD) models are also available.
The SRT Hellcat and Jailbreak variants of the Dodge Charger are equipped with 6.2-liter V-8 engines that produce 717 horsepower and 797 hp, respectively.