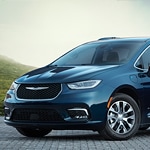 With an exciting range of safety features to match its spacious comfort, the new Chrysler Pacifica is perfect for that short ride across town or a days-long road trip.
Slip into a cruise control setting that the Pacifica maintains on its own, slowing and accelerating to keep a constant distance from surrounding traffic according to your preprogrammed instructions. It can also monitor surrounding traffic at all times, eliminating the danger from blind spots with a simple alert. If your vehicle drifts out of its lane, the warning system sounds an alert while simultaneously guiding you back into the correct position.
Parking is easier, too, with help from obstruction sensing cameras to the front and rear. You can navigate into a spot with helpful guidelines on the dashboard touchscreen from the rear facing camera. Bright LED headlights and taillights illuminate your surroundings and keep you visible to fellow drivers.