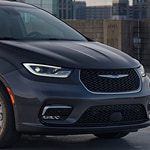 The 2022 Chrysler Pacifica was specifically designed to increase safety while on the road for you and your passengers. These vehicles have a fortified steel frame to better withstand the effects of a collision. Steel is beneficial because it has a distinctive ability to absorb an impact, thus diffusing crash energy. Due to this well-constructed frame, you get expanded, uncompromising strength with a Pacifica automobile.
While driving a Chrysler Pacifica, you get an electronic stability control arrangement that assists with keeping the minivan stable on inconsistent roadways. This system will automatically apply braking pressure to the individual wheels as it is needed. Additionally, the Pacifica comes standard with front and rear parking assistance. With this capability, you can avoid accidents when driving into or backing out of a parking location.
With the standard full-speed forward collision warning, you get visual and audible alerts to prevent you from colliding with another driver.